Is it possible to see Ho Chi Minh City in a day? Doing it by yourself? I say 'Yes'! In Saigon, a full day city tour will cost about SGD $14 or 210 000 VND if you book via agencies or hotel front desk. It covers air conditioned transportation, English speaking tour guide and a complimentary bottle of drink excluding entrance fee and lunch. That's not the point of this post though.
As a budget traveler, i try as hard to scrimp and save as much because i know some tour agencies are just out to get some extra bit of money from me when i could do it for free! Or if you are an explorer and love to get lost and explore the city, this is a fun way.
I will be guiding you through a sample itinerary that is definitely doable when you are in Saigon and a smile to your wallet too.
All the attraction sites listed below is located in District 1 and they are very close to each other so you won't easily get lost. When in doubt, just ask the locals around and they will point you to the right directions. The map below is a rough guide of where each attractions stands.
1. Cho Ben Thanh/Ben Thanh Market
Photo by Lerdsuwa
Let's start from Ben Thanh Market. Located in the heart of this city, you can find hardware, clothes, shoes, accessories, jewelries, food, spice and nuts right under one roof. Watch local and travelers bargain for their desired items live right in front of you. However, most of the items sold here in day time is far more expensive than the night time market which opens at 7 pm. My tip: Come to see the local daily routines here in the day but shop in the night.
2. Reunification Palace (Independence Palace)
Walk further up a long stretch of road till you see a peach colored wall covering the Reunification Palace. Follow the path to the entrance along this road and you will find this beautiful view greeting you. The palace is the home and workplace of the South Vietnam president during the Vietnam War and also the site of the end of the Vietnam War during the Fall of Saigon (dramatic name but real!).
3.War Remnant Museums
As the name say it, this museum is filled with remnants from the past. Entrance is free however visitors have the option to pay a small gratuities at the entrance for a few cents only. I would recommend you to pay the gratuities though because its well worth your little money. As you enter the building, you will find yourself entering themed exhibits. Mostly gruelling and also leaving you a lot of heartache and sadness. It is up to you to judge about the American/Vietnam War also known as the second IndoChina war in this museum.
4. Saigon Notre-Dame Basilica
Make a stop to this amazing architecture influenced by the french colony with great history in it. Because this is still a fully functional Cathedral, there are visiting hours for tourist to enter unless you want to join in the mass. While you are here, go on a hunt and find the "love" wall on the building. Fun fact: there will be a few couples in the area taking wedding photos without fail each day.
5. Saigon Central Post Office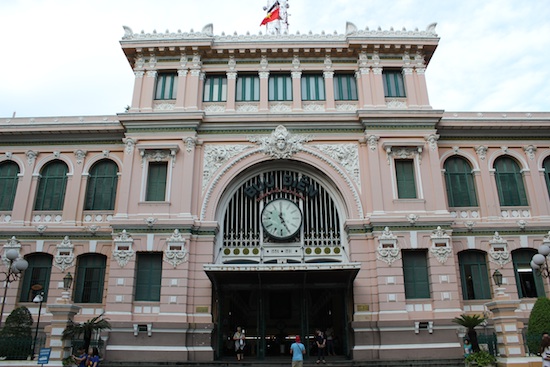 Constructed between 1886-1891, Saigon Central Post Office was designed by a famous architect named Gustave Eiffel. Sounds familiar? He is the same person whom designed the Eiffel tower in 1889. Blend in with the locals, sending out mails or writing letters to their loved ones on the table at the back of the office. Do take note of 2 big maps in this building. One being the Vietnam-Cambodia map and the other being the map of Vietnam and its surrounding areas.
6. People's Committee Hall (Ho Chi Minh City Hall)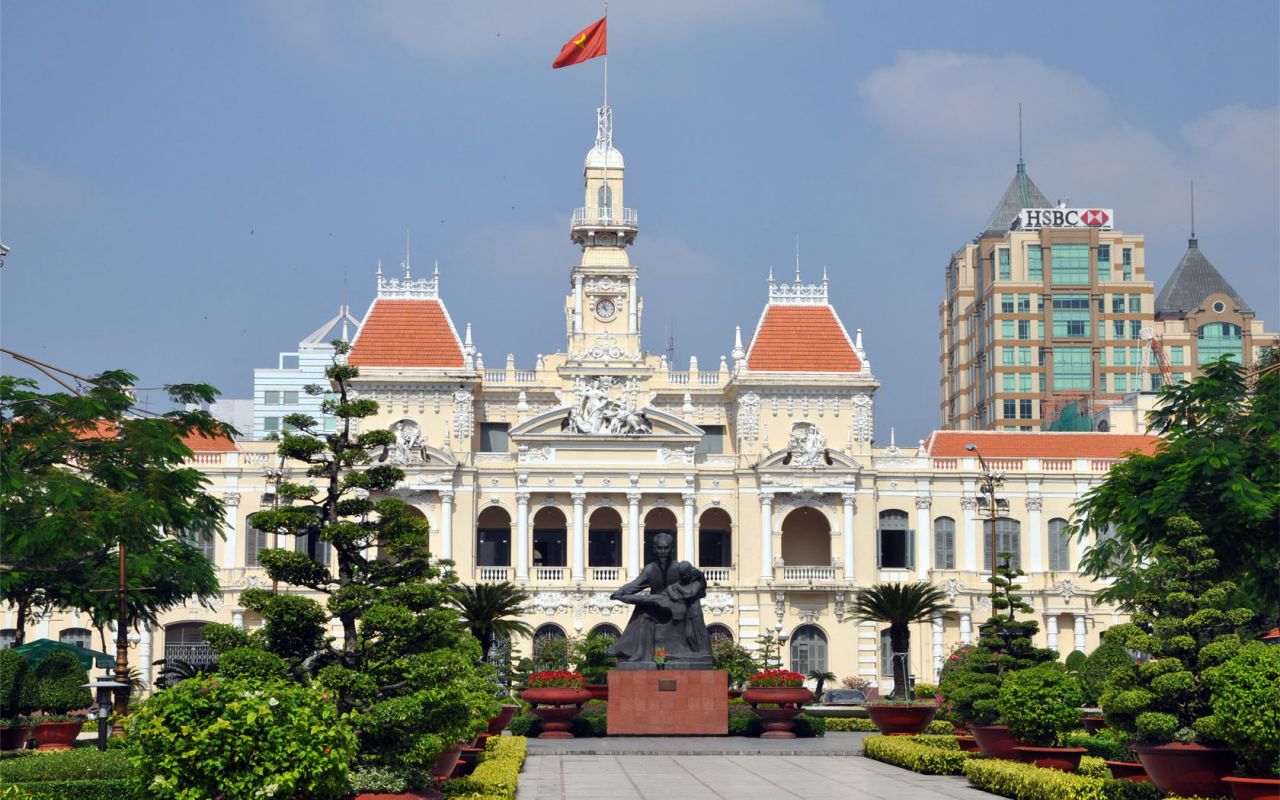 On the way to the Municipal Theater, take a pit stop here and admire the building beautiful design. This building however is not open to the public and its most beautiful at night with lights illuminating from the building.
7. Municipal Theatre (Saigon Opera House)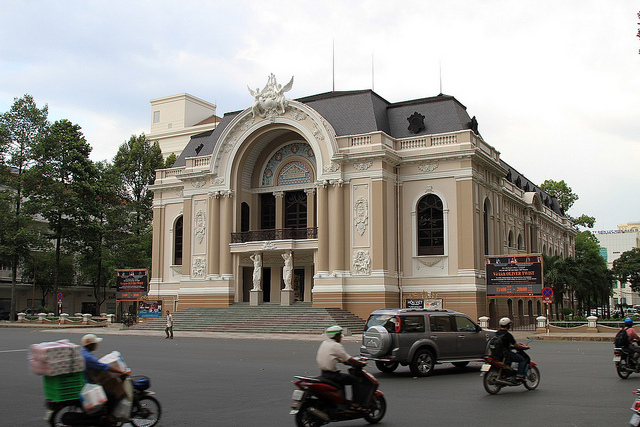 Fancy a cultural show in here? The interior in the theater is simply stunning just like from the movies, french style. Service crews stand on the flight of stairs and promote shows to travelers though it can be quite costly but worth the watch especially the AO Show.
8. Saigon SkyDeck
While all that walking and taking in to the culture have sink in well, why not head to Saigon Sky deck. You can just look up and see the tall tower, follow it and you will reach in no time. If you followed this itinerary by no order, it will be probably evening. Perfect time to get a sunset shot from here. You will have to enter from a different entrance specially for the sky deck and purchase the ticket at the ground floor. A ticket cost 200000 VND. I assure you, the view is amazing and breathtaking from the 49th floor.
With that, i hope you find this useful and a save you up little more money for that delicious Pho by the street. If you have tried this or have more to add on, let me know! Until next time, safe travels.